Edit: I found a bag! I'm in love with my Swift Industries Sugarloaf. Full details of why I went with this bag and why I love it are in this post.
I'm approaching year my one-year anniversary of buying my Surly Straggler and if you've ever looked at my Instagram, it's no secret that I love that bicycle. She fits me like no other bike ever has and we go on some outstanding adventures together. Over mountains, under bridges, finding new friends, and down highways. That glitter dream machine is truly a dream bicycle for me.
Because of the Shimano 105 components, I'm limited in my front carry capacity options. The cables are routed such a way that it limits the installation of a porteur or handlebar bag, and unless I switch my entire setup (or go with v-noodles to get the cables out of the way), I'm pretty much stuck with it. Thankfully, I've got some awesome local bike shop knowledge who was able to hook me up with a great front rack and basket, so I can still live that low-trail lifestyle and #basketlife.
I started out riding with the Soma Lucas Mini Front Rack and the Wald 137 basket. I was warned that the carrying capacity for this rack was 10lbs, and I regularly pushed that over its limit. This setup lasted quite a while, throughout my first camping season and into winter. It also survived two crashes, bearing the brunt of most of my falls and holding up pretty well. This rack was great overall, with an eyelet for a dynamo light and super lightweight.
Eventually however, I stressed this rack out beyond its capacity. Finally admitting that I like to carry lots of things, I settled on the Surly 8 Pack Rack, a much heavier duty chromoly steel rack with a 30lb carrying capacity. This rack seems much better suited to my bike set up, fitting way closer to the fork, improving handling, and overall feel. This rack also has eyelets for my dynamo light, so making the switch was pretty easy.
Now that I've got the hardware dialed in, my biggest challenge is how to carry the soft goods. Searching the market of bike bags, there seems to be an infinite supply of backpacks, panniers, frame bags, porteur, and handlebar bags. But there are very limited options for bags specifically designed for baskets!
Most of the time if you see me rolling around town, my basket looks crazy. I'll have groceries, shoes, maybe a change of clothes, food, and perhaps a pool noodle strapped to it. For camping trips I've been known to throw my tent poles in there along with a 6 pack and a speaker. I've searched REI high and low for a bag that will fit nice and neat to help me stay organizedand come up empty handed every time. My best option so far has been a reusable bag from Trader Joes.
Check out the photos below- thank God for a cargo net or my stuff would be flying all over the roads! I seriously need a better solution ASAP!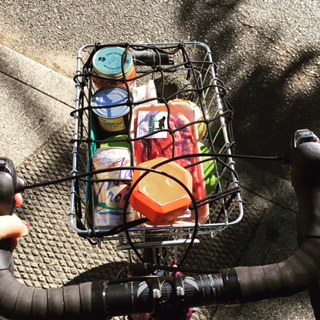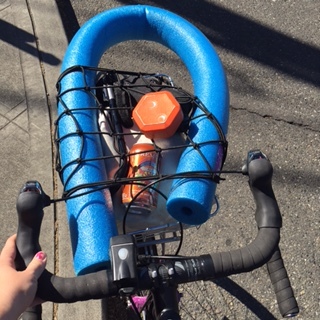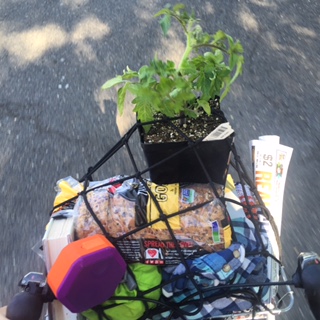 I know of 2 companies making purposefully built basket bags- Sackville and Porcelain Rocket. Both seem to be pretty great- hooks/buttons on the bottom for extra security, zippered tops, organizational pockets, everything that you'd want in a bag. But they're kind of boring, especially the Sackville one that I could actually afford. The Porcelain Rocket comes in lots of fun colors, but for $175, I could probably learn how to sew.
So, friends and creative types, anybody want to make me a basket bag? I'll pay you! We can prototype on my bike and then get rich! It's what all the cool kids are doing now days. We'll even have an Instagram or something for your product line.